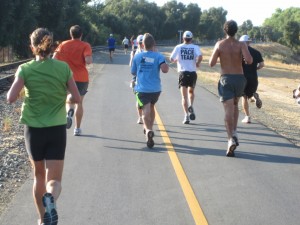 The end of 2011 is upon us so it's time to check out the results of the major road race series/grand prix that local runners compete in.
Local
We'll start with Sacramento's own Buzz Oates RunSac Race Series. This year-long series of local races is a points competition with over $7,000 in prize money and bonuses. Points are earned based on age-graded performances in more than a dozen top Sacramento-area road races. There are awards for team and individual competition, and in 2011, there were several hundred individuals and eight local teams vying for the prize money.
The top placing individuals for 2011 were Janice Kesterson, 57, running for the Buffalo Chips, and Terry Baucom, 54, running for Fleet Feet Racing.
Second and third individual women were Karen Jeffers, 48, with the River City Rebels, and Stacey Worthen, 38, running for Fleet Feet Racing.