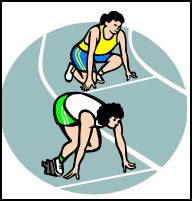 It must be spring! Not only am I sneezing every 30-seconds, it seems as though we were overwhelmed with races and tasty results to report on.
In track and field, Stanford was host to the 2011 Payton Jordan Cardinal Invitational, where the Hornets' Lea Wallace turned out the 2nd fastest Division I 1500 of the year. Wallace, in her first 1500 of the season, ran 4:11.31. The only collegiate athlete ahead of her is Jordan Hasay (Oregon), who ran 4:10.28 in the same race this weekend. Letsrun.com has an excellent write-up about the event.
Up in Oregon on Sunday, Sacramento's Jenny Hitchings ran a PR 2:46:10 in the Eugene Marathon–just 11 seconds shy of the Women's Olympic Trials Marathon qualifying time. Hitchings was 5th woman overall, and 2nd masters behind Bend's Kami "The Machine" Semick.
Speaking of close calls, at the Quicksilver 50K in San Jose, Jen Pfeifer, of El Dorado (former of Folsom), was reportedly in the lead until the final mile of the race where she went off course and picked up several extra minutes. While lost, Pfeifer was passed by a more attentive Adona Ramos, of San Jose. Ramos took the win with only about 15-seconds to spare.