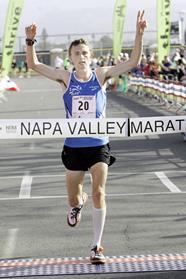 On Sunday, Folsom's Kevin Pool was supposed to just be running a "training run" in advance of April's Boston Marathon.
I'm curious at what point he decided to go ahead and push for the win at the 35th Annual Kaiser Permanente Napa Valley Marathon, because at some point he had to have decided to pass and then stay in front of all those other people out there on the course.
On the other hand, San Francisco's Michelle Meyer, 25, had reportedly set a goal of running a fast time, and possibly earning the women's win.
At the end of the day, both of them emerged victorious and were crowned Road Runners Club of America National Marathon Champions because the race served as the Road Runners Club of America's 2013 National Marathon Championship.