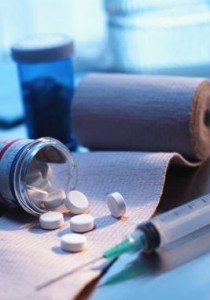 Now that doping controls are a fact of life at the major, big money races, it looks like the new doping strategy is to run a lot of small money races where there are no controls.
ESPN's Edurance Blog tackles this issue in a story built around Kenyan Jynocel Basweti's recent sanctioning for doping.
Basweti was not a big name in marathoning, but ESPN reports that he has won 17 mid-market marathons in the US since 2006, with prize money of up to $10,000.
Sadly, as long as there's even a little money on the table, cheaters will cheat. Hopefully, some lower-cost drug testing will come along soon so we can get back to not worrying about this.
Meanwhile, even amateurs are doping and efforts are underway to catch them more often. This Wall Street Journal article is focused more on amateur cycling, but the parallels with running are obvious.
Since 2011, 12 amateur cyclists in America have been sanctioned for testing positive for banned substances or skipping mandatory drug tests, according to U.S. Anti-Doping Agency.
I have to admit, I've had some suspicions about certain performances and as I've written in this very website we've had some doping amateurs caught in the region before. I'm afraid it's going to get worse before it gets better.
In response to local concerns, Florida's state bicycle racing association has solicited donations in order to start testing local races.
"You'd see some guy in his late 40s or 50s just drilling it," said Jared Zimlin, president of the association. "We figured nobody would ever want to race here if they think they're going to get their butt kicked by some 50-year-old 'roid monster."
Indeed. Maybe we need a Kickstarter campaign to fund a Sacramento based doping control project. Anyone want to take that on?