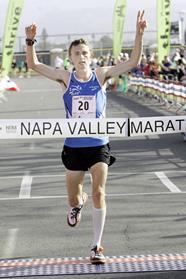 On Sunday, Folsom's Kevin Pool was supposed to just be running a "training run" in advance of April's Boston Marathon.
I'm curious at what point he decided to go ahead and push for the win at the 35th Annual Kaiser Permanente Napa Valley Marathon, because at some point he had to have decided to pass and then stay in front of all those other people out there on the course.
On the other hand, San Francisco's Michelle Meyer, 25, had reportedly set a goal of running a fast time, and possibly earning the women's win.
At the end of the day, both of them emerged victorious and were crowned Road Runners Club of America National Marathon Champions because the race served as the Road Runners Club of America's 2013 National Marathon Championship.
What this means, and I'll forgive you if you weren't aware of this, is that whenever one of them enters a room, everyone else must stand up–at least throughout the rest of the year. (Hey! I don't make up the rules! I just report them.)
Pool, 30, crossed the finish line in 2 hours, 21 minutes, and 58 seconds, the seventh fastest winning men's time in the 35-year history of the event. Meyer's time of 2:43:11 is the fourth fastest ever by a woman on the point-to-point course.
"Part of the reason I ran here is because I think it has a similar downhill profile to Boston," said Pool who was an NCAA Division III All-American at Pennsylvania's Allegheny College and now serves as the Team Manager for the Sacramento Running Association Elite running club. "I wanted to get a little simulation to that because previously when I ran Boston my quads didn't hold up on the downhills."
Coming in behind Pool, for second place, was Frank Corrigan, 28, of Port Costa, with a 2:22:47 finish. After leading for most of the race, Cheyne Inman, 27, of Vacaville, finished third in 2:25:38.
On the women's side, coming in behind Meyer was Molly Friel, of Fresno, in 2:44:16.
Friel, 45, was also the first masters woman. Coming in 3rd, was another masters runner–Sarah Raitter, 40, of Reno, in 2:50:35.
The third masters woman was Samantha Forde, 40, of Santa Cruz, who brought it home in 3:08:36.
The top masters man was 49-year-old Martin Rindahl, of Fresno, who finished in 2:42:19. Rindahl was followed in by Mark Drake, 57, of Davis, in 2:51:16 (!).
Third place masters honors go to Mark Lantz, 47, of Gold River, who finished in 2:52:02.
One other reason to win this race, if you are so inclined, is that winners take home their weight in wine.
Complete results are here.