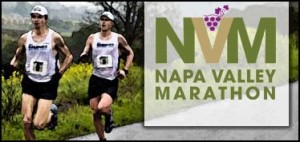 The Napa Valley Marathon was this morning and if you were hoping for a top-spot, you had better have brought your long-game. A quick survey of the results shows a surprising number of the region's top ultrarunners among the top finishers.
The winning woman was San Francisco's Devon Crosby-Helms, whose 2:39:37 appears to be a new course record. According to my March issue of Ultrarunning, Crosby-Helms is also the woman who ran the fastest 100Km in the North America last year. (7:46:33 at the Mad City 100Km)
I don't recognize any of the other top women, but the men's field was stacked with some of the top ultra guys.
Chris Mocko, of San Francisco, won the race in 2:24:38, but the ultra guys start cropping up in fourth place. Finishing fourth overall, in 2:37:14, was Nathan Yanko, who also made the Ultrarunning list of top 1ooKM times (28th).
In 5th place at 2:37:51 is Victor Ballesteros, of San Rafael. Ballesteros won last month's Jed Smith 50Km, and ran the 15th fastest 100Km time in 2011.
Napa's 6th man, in 2:40:49, was Ian Sharman, of Bend. Sharman is best known in the ultrarunning community as that guy who ran 12:44:33 at the Rocky Raccoon 100 mile last year. He's also pretty well known as that guy who smokes you in a race while dressed as Elvis, or Spiderman.
The list goes on from there, and I spot at least a couple local ultra-guys in the top 20, including Folsom's Robert Peterson and Erik Skaden.
I'm not sure what this means, but it struck me as interesting. It's kind of reminiscent of the story I wrote about last year's San Francisco Marathon.