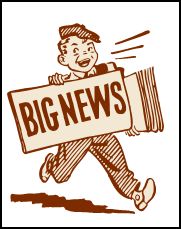 If you want to impress people with your knowledge of running related current events, look no further than today's edition of Things You Should Know.
After reading this, you'll be prepared to bore your non-running friends with the most up to date running news from the world of running!
Road Racing Things
This past weekend, Patrick Makau, of Kenya (surprise!) won the Berlin marathon and set a new world record of 2:03:38, or approximately 2:26 faster than Oprah Winfrey*.
If you are into math, Makau's finishing time translates to just under 4:43 per mile. My quads hurt just thinking about it.
The first place woman was Kenya's Florence Kiplagat, who ran 2:19:44. World Record Holder Paula Radcliffe ran her first marathon in almost three years, finishing third in a still impressive 2:23:46.
Radcliffe says she "swallowed her ego" and focused on simply securing a qualifying time for the UK Olympic Trials. (Always cautious, she gave herself a seven minute cushion.) But before she can start training for the trials, Radcliffe is reportedly going under the knife to have a bone spur removed.
According to the International Association of Athletic Federation (IAAF), Radcliffe world record and Deena Kastor's national record marathon times no longer count since they ran alongside men. Performances from mixed events (like Radcliffe's 2:15:25 from the 2003 London Marathon) would be classified as "world best."  According to some, including this correspondent, this decision is "boneheaded and heartless." I'd suggest "sexist" as well.
Track and Field Things
While the US of A never seems short of sprinters, we can now claim the World Champion and the World Leader in the women's 1500.
At the World Championships in Daegu, the American champion Morgan Uceny fell down during the race and teammate Jenny Barringer-Simpson out-kicked the field to win the gold and the title of World Champion.
A couple of weeks later, Morgan Uceny heads off to Belgium and crushes the elite field (including Barringer-Simpson) at the Diamond League Brussels and finishes with the world's fastest time for 2011 of 4:00:06.
It's not just the American women who have been surging, either. Only a year after Chris Solinsky set his American record in the 10,000 meters, Galen Rupp shattered it by 11 seconds with a 26:48. This was also at the Diamond League Brussels meet. Alas, it was only good enough for 3rd in this race.
Ultrarunning Things
The TrailRunner 100K Ultra Race of Champions was a big success.  Geoff Roes won for the men and  Ragan Petrie won for the women. In case you are wondering, the intent of this event was to inject some hype and prize money into the sport and see what happens.
Bryon Powell has a pretty good write-up about the event at irunfar.com.
The always entertaining Devon Crosby Helms also has a nice write-up about it.  She says, "I went to the well. And the well was dry. So I found a shovel and dug deeper." Good reading.
In case you have some time on your hands, and a strong self-abusive streak, the Western States Endurance Run is looking for a new Race Director. Everyone will want to be your friend! You'll get invited to all the cool ultra running parties! It'll be great! (Just don't delay, since your application is due by 12/1/2011.)
_____________________________________________________________________________
* I compare Makau's time to Oprah's because, as it turns out, she ran a very average marathon time.