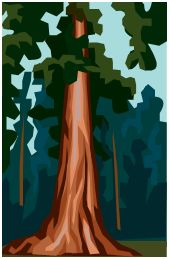 Each fall, I make an enjoyable visit to the Humboldt Redwoods for another go at one of my all time favorite half marathons.
This past Sunday's aptly named Humboldt Redwoods Marathon and Half Marathon is the nearly identical twin (the stereoisomer really) of the Avenue of the Giants Marathon (AKA "The Ave") with one major difference. The Humboldt Redwoods Half Marathon is part of the PAUSATF Grand Prix and therefore draws a very fast crowd. (Also, The Ave is run in April.)
This is how a small race that starts in a little turn-off of Highway 101 has 33 finishers under 1:20 and a woman running 1:18:19 comes in 2nd.
The weather was perfect. The race was well organized. And this year, they replaced the usual terrible cotton shirts with pretty nice technical ones.
The day's first man was Neville Davey of Palo Alto who finished uncontested in 1:08:31. The top woman was Arcata's Megan Rolland who finished in a 1:18:14, only a few seconds ahead of second place woman Alexa Glencer of San Francisco.
But that's not the real story. The real story here is how well the Sacramento area's masters runners performed.
For masters women, Sacramento's Kirsten Schneider finished 3rd in 1:23:35 and Karen Jeffers, of Wheatland, was 9th in 1:34:38.
On the masters men's side, four of the top-five were local runners! Roseville's Michael Fadling was 1st in 1:15:40. Iain Mickle, of Sacramento, was 2nd in 1:15:48. Rocklin's Chris Knorzer was 3rd in 1:16:02. And Edward Randolph, of Sacramento, was 5th in 1:16:26.
Of course, there will be no winning team from the area since these men run for four different clubs: Fadling is with Fleet Feet Racing, Mickle with Excelsior, Knorzer with West Valley Track Club, and Randolph runs with the Buffalo Chips. Oh well.
Complete results here.