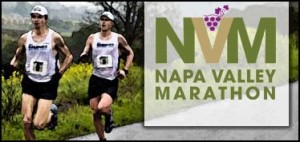 The Napa Valley Marathon was this morning and if you were hoping for a top-spot, you had better have brought your long-game. A quick survey of the results shows a surprising number of the region's top ultrarunners among the top finishers.
The winning woman was San Francisco's Devon Crosby-Helms, whose 2:39:37 appears to be a new course record. According to my March issue of Ultrarunning, Crosby-Helms is also the woman who ran the fastest 100Km in the North America last year. (7:46:33 at the Mad City 100Km)
I don't recognize any of the other top women, but the men's field was stacked with some of the top ultra guys.