On Saturday morning, a couple hundred of the usual suspects showed up at the Sacramento Sheriff's Training Academy for the Kaleo 5K.
Sacramento speedster Mike Styczynski made a rare appearance in a local race and ran away with the win in 16:40. The second man in was Folsom's Daniel Kinsella, who finished in 17:06. The third man in was Sacramento's Geoff Butler, who finished a couple minutes back in 19:51.
The winning woman in the 5K was 16-year-old Jillian Brown, of Sacramento, who finished in 20:37. Next in was Sacramento's Christi Cantle, with a 21:45. Rounding out the top-three was Wendy Schmitt, also of Sacramento, who finished in 21:57.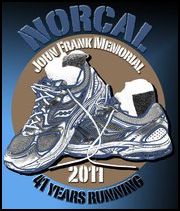 Saturday morning's early rain showers let up long enough for runners of Redding's NorCal 1o-Mile race to enjoy fairly warm conditions on that beautiful, if hilly, course along the Sacramento River.
The NorCal 10 is the first race of the Pacific Association USA Track & Field 2011 Grand Prix, and typically sees a highly competitive field. This year was no exception. There were 37 runners finishing the ten mile course in under an hour, including women's winner Jane Kibii, of Kenya/Auburn, who ran 57:15!
The men's winner was Mario Mendoza of Bend, Oregon, who finished in 51:53. Tim Tollefson of Roseville, at 3rd overall in 52:24, was the top area man, and 50-year-old Iain Mickle, of Sacramento, was the top Masters finisher in 55:57.
Jenny Hitchings, of Sacramento, was 4th woman and 2nd master, with a 1:02:40.