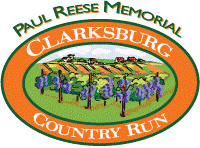 As with last month's PAUSATF Grand Prix half-marathon in Humboldt, locals dominated at Clarskburg in both individual and team results.
This year, the traditional 30Km PAUSATF race was dispensed with, but there were still a boatload of overlapping races associated with this event. There was a 20-miler, a half marathon, a 5 Km, and a kids half-mile. With the half-marathon being the PA (i.e., faster) event and starting just 20 minutes after the 20 miler, half-marathon runners enjoyed the special thrill of weaving through the endless, and often clueless, ranks of slower 20-mile runners.
I was pleased to see locals–Kevin Pool of Folsom and Lindsay Nelson of Roseville–get the win in this PA race–both with solid times. Pool's 1:07:56 would, in a typical local race, give him a commanding lead. Here, however, runner up Sergio Reyes was only seconds back in just over 1:08. In fact, there were eight men under 1:10!