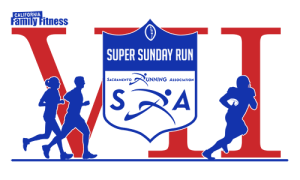 By Ellen Moore
The seventh annual Super Sunday Run started with live music, footballs tossed around and a pair of kids' races to set the tone for a fun, festive day.
More than 2,500 runners participated in the event, organized by the Sacramento Running Association (SRA) and presented by California Family Fitness. At the end of the event, participants celebrated with a tailgate party featuring free food and beer, yard games, a portable video game truck featuring Madden 2015 and a bounce house for the kids, before the Denver Broncos-Carolina Panthers showdown.
In between, athletes of all shapes, sizes and affiliations covered the 10k and 5k courses before descending on Sacramento State University's Hornet Stadium for the end zone finish.
Chico's Nicholas Spector and Rocklin's Melissa Penwell captured 10k titles and Davis' Chris Tyson and Oakland's Tori Tyler took home 5k honors on a beautiful, sunny Sunday morning.