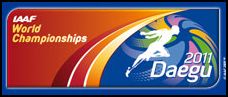 There has been a lot of news coming out of the World Championships in Daegu, South Korea, but here is my favorite story so-far: Jenny Simpson (formerly Jenny Barringer) coming off injuries and a so-so year, is not even mentioned by the announcers as the runners assemble at the starting line.
Then she runs a beautifully tactical race, avoids some mid-race carnage, and goes on to win the championship.
The last time an American woman was world champion in the 1500 was in 1983 when Mary Decker bested three Soviet runners in the final.
Here is Jenny's race (after the jump):