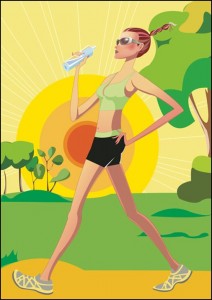 Now that your December marathon is done and the baked goods are piling up around the office, are you worried about packing on the pounds over the holidays?
To investigate the impact of when you exercise , a team of sadistic, Belgian researchers put a group of athletes on a horrible, high-fat diet (probably not much different than the standard American holiday diet) and had them not workout, workout before breakfast, or workout after breakfast.
Naturally, the non-exercising group packed on the pounds (those lazy bastards!). But there was a significant difference in the weight gain between the other two groups.
The after-breakfast exercise group, of course, put on less weight than the non-exercise group, but they still gained. However, the pre-breakfast exercisers hardly gained any weight at all.  Their blood chemistry was better too, showing better insulin response.