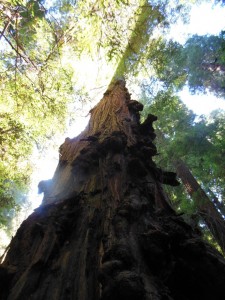 There is a magic place, up on the top of California, where majestic giant redwoods tip-toe down the hillsides to peek at the Eel River as she lifts her skirts and dances out to the Pacific Ocean.
And every year, Northern California's finest runners, and a bunch of the rest of us, line up there under the canopy of redwoods for the Humboldt Redwoods Marathon and Half Marathon.
The half marathon is part of the PAUSATF road grand prix, so many of Northern California's top road racers make the long trek up to the great green north for this out-of-the-way event.
If you make the drive to the Humboldt Marathon and Half Marathon, or its spring-time sister race, the Avenue of the Giants, don't expect cheering crowds or convenient lodging. But you can expect a fast and scenic run through one of the most beautiful places on Earth.
I've been asked if it is a fast course. I always say that the rolling hill course is not particularly fast, but the fast crowd will sweep you along.
In the half marathon, this year's big man on campus was Sergio Reyes, 31, of Los Osos, with a winning time of 1:06:42.  Coming in second overall was Malcolm Richards, 31, of San Francisco, who finished in 1:07:07.
Earning third overall was Adrian Sherrod, 23, of Walnut Creek, who ran a 1:07:26.
It was a fairly close race for the women, with the top three all finishing within 60 seconds. First overall was taken by Madeline Kramer, 26, of Oakland, who crossed the line in 1:18:20.
The second place woman was Jenna Boren Denucci, 36, of San Mateo, who finished in 1:19:08. Heather Tanner, 35, of Menlo Park, earned the bronze with a 1:19:19 finish.
The top masters woman was Jill Pettibone, 46, of Roseburg, Oregon, who finished in 1:23:54.
The top masters man was Rocklin's Chris Knorzer, 44, who brought it home in 1:13:21.
The top senior woman was Wheatland's Karen Jeffers, 50, who ran a 1:30:49.
And finally, the top senior man was Sacramento's Iain Mickle, 52, who ran a pretty speedy 1:13:58. It should be noted that Mickle's time broke the long-standing 50-54 age division record of 1:14:43.
For complete half marathon results, check here for gun-times and here for chip times and age-division results.
In the full marathon, the overall winner was Vallejo's Jorge Maravilla, with a time of 2:36:03. Coming in second was Armando Ibarra-Espinoza, with a finish of 2:53:22.
Finishing in third was Boulder's David Miller, who brought it home in 2:57:25.
The top woman in the marathon was Ines Rinsum, of Arnhem, Netherlands, who completed the 26.2 miles in 3:15:33.
Finishing second was Danielle Gerik, of Arcata, with a  time of 3:22:00. And in third place for the women was Evelyn Cordner, of San Francisco, who finished in 3:22:20.
A great time was had by all.