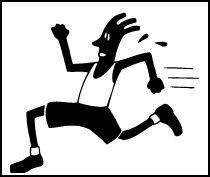 By John Schumacher
Amid the sounds of Johnny Cash, Turlock's Miguel Nuci and Auburn's Jane Kibii earned individual honors Saturday in the inaugural Folsom Blues Breakout Half Marathon.
The race, sponsored by the Sacramento Running Association and presented by the city of Folsom, attracted 3,000 runners on a mild, pleasant fall morning.
Cash's presence was everywhere, from the view of Folsom Prison and the recording of him talking about the grand old flag at the start on Folsom Lake Crossing Bridge to the bands playing his music along the course to the James Garner Johnny Cash cover band at the finish.
Nuci, who runs for the Sacramento Running Association's Elite Team, took the lead five miles into the 13.1-mile race and pulled away to win the men's title in 1 hour, 9 minutes and 42 seconds. Auburn's Brad Poore finished second in 1:09:59 and Rocklin's Charlie Brenneman, another SRA Elite Team member, grabbed third in 1:10:48.