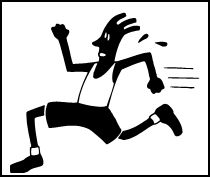 About a week ago, I posted here about an article in the Wall Street Journal that indicated that we were all going to die from all this crazy running.
I remain suspicious about the science behind the article, and it appears that I am not alone.
Alex Hutchison at Sweat Science delivers the mother of all smack-downs on this story.
It's a great piece you should read because there is no doubt that someone at one of your holiday gatherings is going to start a conversation with "I heard that too much running is actually worse than not running at all."
Hutchison takes the time to actually look at the studies cited and note how the anti-running crowd is twisting the results. (Are they funded by the tobacco industry?)
They're effectively saying, "If we ignore the known health benefits of greater amounts of aerobic exercise, then greater amounts of aerobic exercise don't have any health benefits."
The gist of his argument is this: The health benefits of running may decline as you exceed 60 minutes of daily running, but there isn't any science to indicate you are hurting your health. In fact, scientists haven't really been able to find the point at which you are doing more harm than good.
Run as much as you enjoy running.