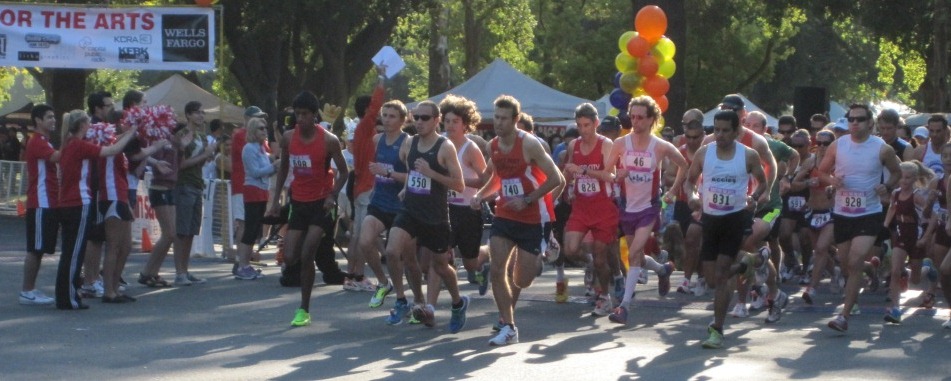 I fell in love with the Race for the Arts 5K when it was run downtown from Crocker Park and along the Sacramento River, on a Friday evening in late summer.
Over time, originally because of construction issues, the race was moved to Land Park–but still run in the evening.
Now, it's just another Saturday morning 5K in Land Park, but still a good time and still a local favorite. The course is flat and shaded. There is plenty of grass to set up a team tent or run your kids around on after the event.
In today's race, local speedster Kevin Pool ran alone for the win in 15:13. Following him in for 2nd and 3rd were Hector Miranda in 15:52, and Camron Shahmirzadi in 16:15.
It was nice to see the top three places going to young guys (29, 23 & 22) for a change. That is a good sign for the continued development of the local running scene.
Today's top woman was Stacey Worthen, who finished in 19:23. Worthen was chased in by teammates Emily Mah-Nakanishi and Christine Mellick, making it a clean sweep for the Fleet Feet women. Mah-Nakanishi ran 19:44 and Mellick finished right behind in 19:48.
The were some impressive masters times out there today, as well.
On the masters men's side, the top three were Michael Fadling, 44, in 16:28, Marcelo Lerda, 41, in 16:48 and Michael Shubert,41, with a 17:05. Besides being top masters finishes, these were each in the top-ten over all, coming in 5th, 6th, and 8th, respectively.
For the masters women, it was Christine Mellick, 44, in 19:48, Karen Jeffers, 49, in 19:54, and  Cherie Smith, 42, in 20:41.
And finally, there were quite a few competitive youth runners out there today, and 10-year-old Sophia Karperos should be noted for her 19:57 finish. About a minute back, in 20:58, was another 10-year-old, Kiana Perez.
You don't see many elementary school aged girls running well under 7:00/mile in a 5K, so hopefully these girls will keep at it. It'll be interesting to see what they can do in high school!
Complete results are here.
Age division results are here.