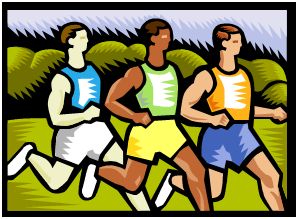 If one were thinking of running a half marathon and wondering where one might find a race to place well (AKA "cherry picking"), one might think that a trip to the little valley town of Lodi might do the trick.
You could imagine the pleasant farming folk setting down their hoes, or parking their combine harvesters for the morning, lacing up some jogging shoes and trotting out an easy 13.1 miles. Then they might gather around a jug of fresh squeezed lemonade to chat about the new livestock auctioneer they'd seen at the county fair last summer. Or something like that.
Then you might actually run Lodi's Avenue of the Vines Half-Marathon, or just look at the results, and notice that local running impresario Rich Hanna ran a 1:13:29 and still finished over four minutes behind winner Jose Morales, of Turlock, who ran 1:09:17!
To put that in perspective, imagine that you were running a 5:37/mile pace. Even if you were running that pace, the winner (i.e., Jose Morales) would be done and sipping on some of that fresh-squeezed lemonade and you would still have over a half-mile to run.
The third man was Martin Ramos, also of Turlock, who ran 1:13:49.
Mary Coordt, of Elk Grove, was the first woman finisher in 1:20:21. Stephanie Finelli, of Sacramento, was the second female in 1:27:41, and Jonya Meyer, of Stockton, was third in 1:30:26.
On Saturday, folks gathered in Cool for the first annual Dirty Secret Trail Run and lucked out with a) cool weather for mid-May, and b) it wasn't on Sunday and they didn't get pelted by ferocious hail storms. The race offered two hilly courses and the winner of the long course (10.3 miles) was Brian Benestad, of Rocklin, in 1:13:03. Adam Daniels and Ryan Myers, both of Sacramento, were 2nd and 3rd in 1:13:42 and 1:14:26.
The top woman in the long course was Cheryl Cannon, of Granite Bay, in 1:27:28. Kate O'Sullivan and Heidi Walker, both of Roseville, were 2nd and 3rd in 1:27:32 and 1:29:47.
In the short course (5.8 miles) the women stole the show, with Lindsey Plitt, of Roseville, finishing top woman and 2nd overall in 47:33. The second woman, and 3rd overall, was Reaghan Emrick, of El Dorado Hills, who finished in 47:53. The third woman was Jana Daniels, of Sacramento, who finished in 52:03. The top three men were Jason Ziegenhirt, of Sacramento, who was also overall 1st in 46:21; Dave Christensen, of Lincoln, with 48:52; and Jay Peirce, of El Dorado Hills, finishing in 49:05.
Complete results for the Dirty Secret Trail Run are here.
The100-year-old Bay to Breakers is well known as a 12K street party. This year, the City and race management were
reportedly cracking down on drinking and nudity. There was grumbling, but little alcohol was in evidence. Apparently, there was still plenty of nudity.
Besides the party (actually in front of the party), there is a serious race and serious money for the winners.
This year, Moroccan Ridouane Harroufi became the first non-Kenyan man to win the race in 20 years.
The women's winner was Lineth Chepkurui of Kenya.
Read more about the event in this excellent article in the San Francisco Chronicle.