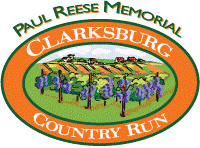 As with last month's PAUSATF Grand Prix half-marathon in Humboldt, locals dominated at Clarskburg in both individual and team results.
This year, the traditional 30Km PAUSATF race was dispensed with, but there were still a boatload of overlapping races associated with this event. There was a 20-miler, a half marathon, a 5 Km, and a kids half-mile. With the half-marathon being the PA (i.e., faster) event and starting just 20 minutes after the 20 miler, half-marathon runners enjoyed the special thrill of weaving through the endless, and often clueless, ranks of slower 20-mile runners.
I was pleased to see locals–Kevin Pool of Folsom and Lindsay Nelson of Roseville–get the win in this PA race–both with solid times. Pool's 1:07:56 would, in a typical local race, give him a commanding lead. Here, however, runner up Sergio Reyes was only seconds back in just over 1:08. In fact, there were eight men under 1:10!
Nelson's top-female time was a speedy 1:19:42. Heather McFalls was the second woman in at 1:20:58.
Sacramento's Rich Hanna was top male master with a very un-master time of 1:12:30, and Jenny Hitchings, also of Sacramento, was top female master and 3rd overall in 1:21:58.
Local teams also took most of the top honors with Sacramento's River City Rebels winning the open men's team event. The Buffalo Chips, also of Sacramento, won both the masters men and masters women team events. Marin's Impalas took the open women's win.
In the 20 mile race, top honors go to Robert Peterson of Folsom, who finished in 2:03:23. The top female finisher was Michelle Meyer of San Francisco who finished in 2:11:48.
Martin Ramos of Turlock took the 5 Km win with a brisk 16:09. Laura Sharp of Sacramento was the first woman in at 21:43.
Complete results for all the races are here. Pacific Association USA Track & Field team scores can be found here.